Ultrasonic cleaning tank
---
Typ 380 – 2500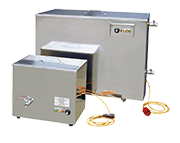 A safe and thorough cleaning of different components of the engine system helps to ensure their long-term operational capabilities. Employing ultrasound technology, different items of various forms, including complexly shaped devices with hard-to-reach areas, can be easily and efficiently cleaned in the sturdily constructed ULTRASONIC CLEANING TANK. The size of the tank can be selected from the standard range in accordance with the engine parts to be cleaned or customized to fit the customers' specific needs.
Features
Operating frequency: 30kHz
Voltage: 50/60 Hz - 230 or 440 (380) V
Material: stainless steel ASTM A240/ DIN 1.4571 2mm welded
Benefits
More efficient than traditional cleaning methods
Quick cleaningl, e.g. of the following items: cylinder cover, cooler, valves, lube and fuel oil filter, turbocharger impeller, charge air cooler
Easy to handle and suitable for various on-site applications
Low-noise performance
Through high-frequency ultrasonic waves generated by means of a piezoelectric SUBMERSIBLE TRANSDUCER in combination with the ULTRASONIC GENERATOR, the cavitation bubbles appear in a cleaning liquid in a tank. When the bubbles implode against the surface of the items immersed in the cleaning liquid, a mechanical energy is released enabling removal of any traces of contamination. This so-called "push-pull" effect allows thorough and safe cleaning without a necessity of dismantling the equipment to parts before cleaning.