News 2014
---
October 2014

The Marine Maintenance World Expo in Brussels, the world's only exhibition and conference dedicated to marine maintenance and repair tools, technologies and services, opens its doors from the 14th till the 16th of October 2014. Technical, economical and environmental knowhow – more than 50 speakers presenting must-see papers!
Martechnic® welcomes all interested visitors at booth 5030 and invites you to our performance in the Technology Demonstration Area on the 14th of October at 11:30 – "Sensors versus chemical kits" – Stefan Lagner, Naval Engineer from Martechnic® GmbH.
September 2014
September 2014: Main Topic of the SMM – IRON
Martechnic® provides an easy to handle portable IRON CHECK and upgrades its MT Modular Monitoring System with the FE-Sensor. more...
SMM in Hamburg

Since a long time the SMM in Hamburg looms large. In September 2014 the Team from Martechnic® wants to discover the new developments and technical finesses form the shipping sector with interesting people of the shipping and shipbuilding industry. We invite you sincerely and welcome business friends and customers at our booth 126 in hall A1 from the 9th till the 12th of September to represent our innovations.
ALCA CHECK and TWIN CHECK
ALCA CHECK and TWIN CHECK, the electronic test devices from Martechnic® have an approved measuring range from 0 – 100 BN.
May 2014 - Crucial Oil Quality Check
May 2014 - Crucial Oil Quality Check: Martechnic® has developed a monitoring system to identify the contamination of water in oil immediately. Continuous monitoring with useful sensors makes it possible to find the defects soonest and resolve the problems in time. The system is suitable for all aggregates because of its modular design.
The AHHOI IR Water in Oil Sensor, certificated from the GL and patent-registered, more...
Improving sensor efficiency
The AHHOI water in oil sensor works in a bypass, and so it is possible to connect the system to multiple sampling points. Martechni®c has developed an intelligent switch for this purpose, called Manifold, which is able to manage up to 4 different sample streams. The oil gets measured serially, with results displayed and logged accordingly. Ressources get used most efficiently at only slightly higher investment. more...
Enhancing bunker volume with air
Enhancing bunker volume with air results in what got named a Capuccino Bunker, and this practise is known since many years. Recent reports indicate that this practise experiences a revival, by improved means even, as obviously nitrogen gets used for this purpose.
Nitrogen will stay stable within the bunker for considerable time, so that a reduced volume becomes noticeable only long upon completion of the bunker process. You may become aware of the issue by on board portable density testing, or guard yourself by a stationary bunker control meters measuring on gravity basis. more...
Every year, the tekom
Every year, the tekom (German association for technical communication and information management) awards exceptional technical documentation and instruction manuals. Everybody may apply, and 15 companies got awarded in 2011. The best mark got awarded for the ZINDEL AG, for the instructional manual made the AHHOI water in oil sensor system ordered by Martechnic®. more...
Low sulphur fuels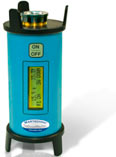 Low sulphur fuels create new challenges in engine operation, deriving from reduced lubricity of very low viscosity marine gas oil, despite being on-spec according to since 2010 in place ISO fuel specification 8217. To assist engineers in dealing with this challenge, Martechnic has modified its falling ball viscosity meters to measure also in the very low range of 1 - 10 cSt, with the JUNG CHECK (MOD.) and VISCO DENS PLUS, so that the potential risk from reduced lubricity can get evaluated right on the spot.
WiO CHECK Water-in-oil test kit adopted for use in latest maintenance programs
Tailshaft monitoring allows prolongation of exchanging stern tube sealing, provided specified requirements are met. WiO CHECK employs suitable equipment in an explicit option, with the reagent not restricted for transport to secure a maximum reach even to remote destinations while offering possibility for consolidation with regular supplies as well. This combination of equipment offers a cost effective service to add on value for the ship owner's investment.
Martechnic® are pleased to announce the successful completion of the POSSEIDON project
Martechnic® are pleased to announce the successful completion of the POSSEIDON project which was focused on developing an integrated Sensor system for monitoring lube oil conditions in marine engines.
The project which was conducted under the EC Sixth framework programme involved a consortium of eight partners from across Europe in a 3 1/2 year program of research that culminated in the successful testing of a demonstrator system aboard an ocean-going vessel. This development will lead to greater security for ships and their crew by facilitating constant surveillance of lube oil conditions and provide valuable input for condition-based monitoring regimes and economic benefits for the owner/operator.
WA-SOL® - Water-in-Oil Reagent Composition Kit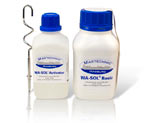 By announcing the newly developed WA-SOL® reagent kit, Martechnic® introduces a reagent breakthrough - and consequently the next generation of water-in-oil reagent, as this reagent is NOT CLASSIFIED AS DANGEROUS GOOD FOR TRANSPORT as per UN Model regulations.
With this alternative in the product range, fully compatible with existing Martechnic® equipment, Martechnic® can offer new options for supply, both cost- and time wise. Once ready the mixture can get applied for testing just as Martechnic's® WIO or WT05 Solutions. One WA-SOL® reagent composition kit contains:
one bottle "WA-SOL® basic"
one bottle "WA-SOL® activator"
a stirring hook
SDS and instructions
(It is recommended to have a type of stirring machine in place.)
"WA-SOL® basic" contains calcium dihydride, specially embedded in a gelatinuous mass, which prevents the calcium dihydride molecules to react with water on transport. Once at its final destination where the testing shall get executed, "WA-SOL® activator" gets added and vehemently stirred, to "compone" the ready-for-test mixture. As this at the first time requires quiet some force, we recommend the use of an electric stirring device and the supplied stirring hook for help.