News 2016
---
November 2016

New Partnership: Martechnic® Now Exclusively Represents Goltens in Germany
Starting from November 2016, Martechnic® is officially appointed as an authorized agent of the Goltens Group on the German market. Taking this new step, the Hamburg-based company further broadens the spheres of its business activities in the oil quality management and condition monitoring of fuel, lubricating and hydraulic oil and adds to its profile the representation of Goltens' on-site services of diesel engines and related equipment.
Accordingly, in counterpart to effective oil condition monitoring Martechnic® shares Goltens' commitment to effective condition monitoring of engines' constituent parts. With over 70-year experience and widespread network of service locations in 15 countries, Goltens provides its customers with the possibility to eliminate downtime associated with the disassembly, transportation and reinstallation of machinery through quick-response mechanism and helps to ensure uninterrupted operations.
Continuously pursuing the aim of environmental protection and saving of precious resources in its business policy, Martechnic® considers Goltens' adherence to planning and installing green technology solutions as an important part of the company's profile that follows the requirements of recent international environmental regulations.
Within the frameworks of new partnership, Martechnic® is looking forward to support Goltens' principal focus areas:
In-Situ field machining services
Expertise in diesel engines and vital engine equipment
Green technology solutions (in compliance with Ballast Water Treatment and Sulphur Emissions Control legislation)
For more information, please contact Martechnic® at info@martechnic.com or call +49 (040) 853 128 0.
October 2016

Martechnic® to Showcase New Products at the Seatrade Maritime Middle East (SMME) 2016
From 31 October to 2 November 2016 Martechnic® will attend the largest exhibition of the international shipping industry in the Middle East area – the Seatrade Maritime Middle East in Dubai, U.A.E. The company will share the joint stand of its regional business partner of many years - the M.I.E. Overseas Ltd. and would like to invite all visitors and participants to attend the stand L13.
During the trade fair Martechnic® will be showcasing its innovative technical solutions for condition monitoring of fuel, lubricating and hydraulic oil as well as presenting its new concept of digital technology development "Martechnic® Industry 4.0" on the Middle East market. In this regard, two new intelligent portable devices TWIN CHECK 4.0 (measurement of two crucial oil parameters: water-in-oil and alkalinity reserve) and IRON CHECK E (PDF) (determination of iron content in cylinder drain oil) for easy, quick and accurate on-board testing will be presented. The key benefits of the test devices are the improved design with automation of measurement process, digital evaluation and direct availability of test results.
Apart from the regional exhibition platform, the Seatrade Maritime Middle East also hosts a conference and an economic forum for discussing global as well as specific regional challenges of maritime sector including difficult market situation, the future prospects of regional growth in the context of current geopolitical situation, the perspectives of the Suez Canal expansion for regional economic development and the corresponding opportunities for the shipping industry, international environmental norms and their application in the Middle East region etc. In light of these various challenges, Martechnic® considers the exhibition Seatrade Maritime Middle East as unique chance for introducing new cost-effective digital test devices for oil quality management specifically developed to ensure smooth and efficient operation of engine systems, to reduce costs, to save precious resources and to protect the environment.
Martechnic® will be pleased to extend regional contacts and meet new business partners in the maritime sector of the Middle East region.
Follow up to SMM 2016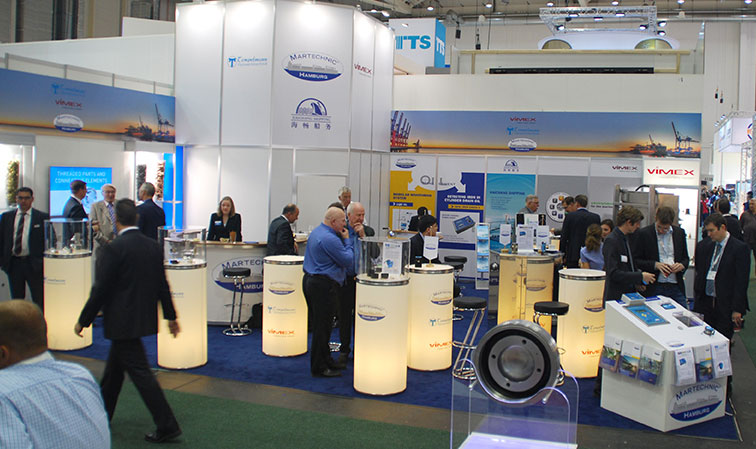 Martechnic® successfully introduced its new products of "Industry 4.0"
This year SMM - the leading international trade fair - had its main focus on innovative technical solutions, and in particular digital transformation for the maritime sector. In the context of difficult market situation and current challenges faced by global shipping industry, automation and digitalization are regarded as potential long-term benefits which the concept of "Industry 4.0" offers.
A large number of international experts from the maritime world and international exhibition visitors has attended Martechnic®'s booth during the four-day event and contributed to the discussion of trends of the "smart technology" theme. Due to truly international character of the trade fair, the team of Martechnic® not only welcomed its long-standing business partners and customers, but was also pleased to establish new business contacts across different industrial sectors with possibility of concluding new contracts.
The priority in the conversation with customers lay in the gradual transition to automation and its role for increasing the overall efficiency of ship operations. Martechnic® took opportunity to highlight its innovations for managing the quality of fuel, lube and hydraulic oil directly on-site and showcased two new test devices: TWIN CHECK 4.0 and IRON CHECK E.
TWIN CHECK 4.0 was presented for the first time ever during SMM and received numerous positive reviews from international shipping experts. Modular design of the test device with the possibility of replacement of every single constituent part, USB to serial cable connection for trend analysis of two critical oil parameters: water-in-oil and alkalinity reserve are among the main advantages the improved version provides. Besides, the accuracy of measurements is achieved through automatic digital evaluation which enables exact determination of chemical reaction completion.
IRON CHECK E (PDF), a patent pending method of measuring iron in cylinder drain oil, offers quick oil samples assessment on the basis of the built-in chroma meter with LED transmitted light source.
Martechnic®'s MT MODULAR MONITORING SYSTEM attracted special attention as the installation of sensors helps to increase automation of on-board control to the greatest possible extent and enables even remote maintenance and operations.
Martechnic® would like to thank all the visitors of its booth for productive discussions and new ideas and inspiration for further development of the concept 4.0.
SMM 2016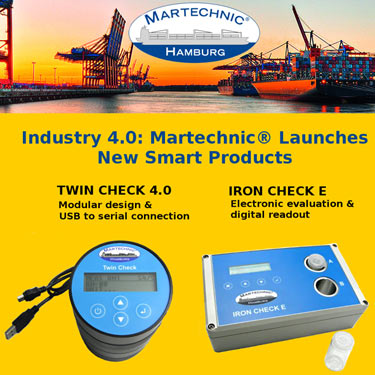 Industry 4.0: Martechnic® Launches New Smart Products
Digital technology development and innovative technical solutions for oil quality management are key focus areas of Martechnic®. Taking into account the globalization process and new challenges for international shipping industry and other major industrial sectors, the company sets priority on designing intelligent test devices for easy, quick and accurate analysis of fuel, lube and hydraulic oil condition and immediate availability of information directly on-site.
Automation of measurement and evaluation are the principal benefits of the industry 4.0 concept that Martechnic® offers its customers within the market of portable test devices. Moreover, consistently pursuing a customer-oriented approach, the company is able to provide smart logistic support and comprehensive service as an integral part of its smart solutions system.
As a preview to the SMM 2016, Martechnic® is pleased to unveil its new product - TWIN CHECK 4.0 – a redesigned and upgraded version of its well-established test device. The improved product provides optimized automatic measuring of two oil parameters: water-in-oil and alkalinity reserve (BN, formerly TBN) and is equipped with smart and user-friendly navigation menu. Automatic data recording and storing enables accurate data collection and monitoring of trends through the USB to serial connection.
An important feature of the smart solutions system with regard to the TWIN CHECK 4.0 is a modular design, namely the possibility to replace every single constituent part no matter plugged or screwed. This new option on the market developed by Martechnic® provides customers with flexibility in parts replacement as well as cost optimization.
Another product developed within the digital technology concept is the IRON CHECK E which offers automatic measurement and electronic evaluation of iron content in cylinder drain oil. The built-in chroma meter with LED transmitted light source enables quick assessment of iron concentration in the oil samples.
Martechnic® will showcase both products at the SMM and will discuss the advantages of digital transformation for on-site oil condition monitoring in accordance with one of the main themes of the trade fair – digitalization.
August 2016

Martechnic® at SMM 2016: new products for on-site oil quality management
With only a few weeks left to go before the leading international maritime trade fair SMM gets under way at the Hamburg fair complex from 6th to 9th September, Martechnic® is finishing up the last preparations to introduce its latest technological innovations. As in previous years, the company welcomes all attendees and business partners to visit the booth 126 in the hall A1.
Martechnic® will showcase a wide variety of well-established products designed for on-site oil quality management following environmental protection objectives. In this respect, the company's representatives will be pleased to discuss in detail the advantages of regular and continuous condition monitoring of fuel, lube and hydraulic oil and to present portable test devices and test kits as well as advanced sensor technology elaborated for effective real-time oil quality assessment.
Special attention will be devoted to currently challenging issues of international shipping industry. With regard to heavy fuel oil and the stringent requirements of the low-sulfur content, the problems of cat fines and bunker fuel compatibility and stability will be considered. After the successful launch, Martechnic® is planning to present its new test kit "MT CAT FINES CHECK", intended to provide ship operators with a quick and easy testing for the presence of abrasive particles in HFO before and after purification procedure in a separator.
Concerning lube oil and in particular cylinder drain oil, the phenomenon of cold corrosion in two-stroke marine diesel engines will be closely examined. In line with the digitalization theme of the trade fair, Martechnic® will be showcasing its newly developed electronic test device "IRON CHECK E" with digital readout of test results for the first time ever at the SMM 2016.
It is of interest to note that the four-day exhibition has been specifically chosen by Martechnic® as a platform to unveil a number of other improved and cost-effective technical solutions the company is working on and aiming to introduce them on the market in the nearest future. More information on the company's updates will be available during the exhibition.
COMING SOON: IRON CHECK E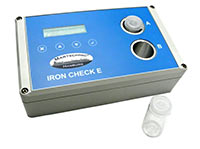 Martechnic® will launch a new product "IRON CHECK E" in the lead-up to SMM 2016
Currently vessel operators encounter difficulties in managing two-stroke marine diesel engines due to a challenging issue of cold corrosion. This phenomenon often occurs because of the existing practices of slow-steaming and partial shiploads to reduce fuel costs, and as a result modifications in engine design. Thereby, lower operating temperatures may lead to formation of sulfuric acid which corrodes cylinder components and causes extensive engine wear in the long-term. A quick regular assessment of the condition of cylinder drain oil helps to detect the iron concentration in oil and to determine the degree of corrosion.
Martechnic® has been working strenuously on the further elaboration of its proven measurement method of iron content in cylinder drain oil and successfully designed an electronic version of the test kit - IRON CHECK E. The new test device offers optimized semi-automatic testing and digital readout of test results. The only manual operation required is the quick preparation of oil samples for the analysis. All other consequent steps including heating process and iron content measurement by means of the built-in chroma meter with LED transmitted light source will be completed automatically.
As one of the priority topics at the SMM 2016 is the digitalization and immediate availability of information, the new test kit can be considered as an effective technical solution to a challenging issue of international maritime industry. Martechnic® is planning to launch the new product in August 2016 and to showcase it at the trade fair in Hamburg.
April 2016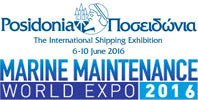 In the run-up to the major international trade shows in June 2016 Martechnic® is currently in the stage of active preparation. From June 6-10, 2016 the company will attend the Posidonia Metropolitan Expo in Greece, one of the largest events for global shipping industry taking place every two years. Martechnic®'s stand is 3.233.
After the Posidonia week, the company will be a part of the annual Marine Maintenance World Expo in Amsterdam on June 21-23, 2016 - a central location for international ship maintenance technologies, tools and services. The company welcomes all Expo visitors and participants to visit the stand 1005.
In the upcoming exhibitions, Martechnic® will showcase its manifold portable test devices for regular on-site oil analyses, sensor technology for continuous real-time oil quality monitoring as well oil sampling devices designed in full compliance with international regulations on environmental protection and efficient ultrasonic cleaning facilities.
This year a special attention will be given to the currently problematic issue of low-sulphur bunker fuel and the related challenges of effective management of fuel oil quality directly on board of a vessel. The main focus will be on the fuel oil stability and compatibility, and extremely abrasive particles Cat Fines. In this regard, the company will be exhibiting its new test kit MT CAT FINES CHECK designed to detect the presence of Cat Fines in HFO before and after a separator. more...
February 2016

In the last years the increased use of the low-sulphur heavy fuel oil (HFO) as a standard bunker fuel in the marine shipping industry has contributed to the increased number of engine malfunctions which are related to catalyst fines. As cat fines are extremely abrasive, they can cause severe damages to an engine's moving parts. In this context, the regular monitoring of HFO's quality, and in particular determining the excessive presence of cat fines in it, is regarded as an important preventive measure.
In this regard, Martechnic® has designed and developed a brand-new device MT CAT FINES CHECK which enables to assess the HFO condition directly on-site and to detect the presence of cat fines in an easy and quick test procedure. Moreover, the constant use of the device helps to trace the occurring changes in the cat fines concentration over a longer period of time in order to take appropriate actions effectively whenever it is required. more...