Drip Sampler pressure plus
---
Drip Sampler with Optimized Back Pressure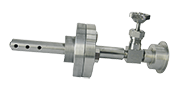 To provide the most efficient way of an on-board bunker fuel sampling and to obtain accurate and reliable test results, Martechnic® has designed an improved version of the DRIP SAMPLER in cooperation with German Lloyd. The new model of the fuel oil in-line sampling device - the DRIP SAMPLER PRESSURE PLUS is intended to optimize the outlet pressure and therefore enables one to draw continuously representative samples.
Features
Material: stainless steel (SUS304/1Cr18Ni9)
Size: available in three sizes to cover range from DN 80 to DN 300
Benefits
Representative fuel oil samples
Optimized back pressure
Three-hole bore connection on welded flange to secure right sampling direction
The DRIP SAMPLER PRESSURE PLUS helps to overcome the challenges of the turbulent nature of the fuel oil flow in the bunker line as well as possible pressure decrease and partial vacuum occurrence. The improved practical design of the device with a three-hole bore connection allows easy installation. A reliable protection from tampering or any external contamination of the fuel oil sample throughout the entire bunkering is ensured by means of the assembly of the DRIP SAMPLER PRESSURE PLUS and the sealed cubitainer with a uniquely numbered seal strip (see the PFD-file). In summer 2013 the DRIP SAMPLER PRESSURE PLUS has become integrated part of DIN 86210.