Sampling Kit
---
Quick Sample Collection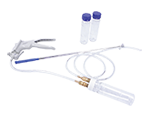 Martechnic®'s SAMPLING KIT provides an easy and practical method to obtain representative samples of bunker fuel, lubricating and hydraulic oil that complies with the internationally recognized sampling standards. A sample is taken with the help of the flexible tube and is pumped to a sample bottle by means of the vacuum pump coupled with an adapter. The attached adjustable telescopic rod allows flexible sampling either from top, middle or bottom of the oil tank.
Features
Operating time: about 2 min.
Sample bottles usability:
water
emulsions
low-viscosity mineral oils (up to the viscosity grade of 1200 mm²/s at 20°C)
Benefits
Extendable telescopic rod for flexible sampling
Representative oil samples
Quick detection of free water in oil tanks
Magnetic head of the telescopic rod can indicate friction through accumulation of iron fillings on its surface
The key advantage of the SAMPLING KIT is direct determination of free water in the oil tank. Before dipping the device into the oil, the magnetic head of the telescopic rod is covered with a special paste which changes its color to red once free water is detected. In addition, the magnetic head accumulates iron fillings on its surface, if they are present in oil under examination, and thereby helps to determine possible friction process.