FE Sensor
---
Continuous Monitoring of Ferromagnetic Particles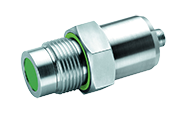 The FE SENSOR provides continuous monitoring and accurate assessment of the condition of lubricating and hydraulic oils by detecting ferromagnetic wear particles. As the degree of concentration of metal particles give evidence of the possible ongoing friction processes in the machine components and erosion in the oil system, the application of sensor technology enables constant tracking of any occurring changes in order to take appropriate corrective actions.
Technical Data
Measuring range: 0-100%
Accuracy: +/- 1%
Voltage: 9-33 VDC
Max. fluid pressure: 20 bar
Temperature: -40°C up to +85°C
Protection class: IP 67
The inductive measuring method is applied to measure the number of ferromagnetic wear particles. The particles are accumulated on the head of the FE SENSOR which is equipped with a permanent magnet. The output signal in the range from 0 to 100% is interrelated to the amount of the distributed particles at the sensor surface. Fine particles (micrometer range) and coarse particles (millimeter range) can be distinguished. The data is continuously processed to the special unit DATALOGGER and stored to ensure effective evaluation.