MT modular monitoring system
---
Continuous Multifaceted Oil Analysis
The MT MODULAR MONITORING SYSTEM is an assembly of various sensors designed for continuous real-time monitoring of lubricating and hydraulic oils. The system can be supplied as a complete set containing all Martechnic®'s sensors for comprehensive oil analysis or individually customized in accordance with the application of a particular oil system.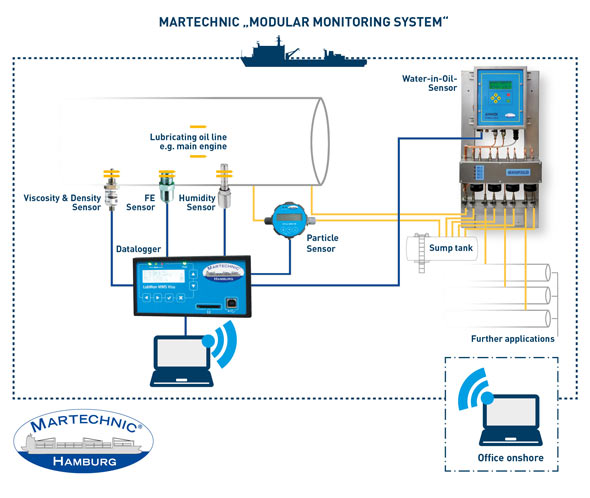 Features
Parameters to measure
Water-in-Oil / Humidity
Viscosity
Density
Particles
Iron
Benefits
Continuous multifaceted oil
Plug & Play
Customized to any application
Real-time comprehensive results
Advanced warning function
Improved maintenance practices
The MT MODULAR MONITORING SYSTEM provides accurate and ongoing assessment of the oil system. The following values can be measured in the process of monitoring: water content in oil and the degree of oil saturation with water, oil contamination with insoluble or metal particles, the degree of wear debris based on the analysis of ferromagnetic particles and oil viscosity and/ or density. Through the connection of the sensors to the special display unit DATALOGGER, the transferred data can be stored and assessed. Any deviations of the measured parameters from normal ranges can be immediately recognized by means of the advanced warning function in order to make necessary adjustments.