Compa Dens Check
---
Density, Compatibility and Stability Determination - Triple Test Kit

Regular monitoring of density of the delivered oil provides reassurance about the conformity of oil quality and its cost. Whereas verification of stability/ compatibility of different marine heavy fuel oils (high sulphur and low sulphur fuel oil) and marine gas oils (MGO) regarded as an essential measure for ensuring continuous normal operation of the engine system. These important oil properties can be determined directly on-site with the help of the test device COMPA DENS CHECK in easy and quick test procedures.
Features
Density:
Measuring range: 0.82 - 1.05 g/ml
Measuring time: about 2 min.
Oil sample: 120 ml
Accuracy: +/- 3 %
Stability/ compatibility:
Measuring range: all heavy fuels + MGO
Measuring time: about 20 min.
Oil sample: stability - 100 ml/ compatibility - 2 x 50 ml
Accuracy: go/ no go
Benefits
Quick and adjustable heating
Accurate and reliable analyses
Four various hydrometers with automatically converted density value from 50 ˚C to 15 ˚C
Directly observable compatibility/ incompatibility test-results
Easy to handle even for untrained personnel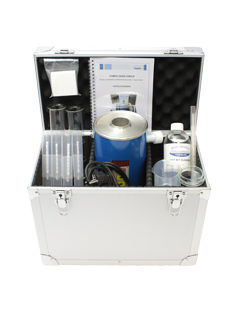 To measure density it is necessary to fill the glass tube with the oil sample and to place it into the heating bath. As soon as the temperature of 50 ˚C is constant, the density can be determined with the help of the appropriate hydrometer which automatically converts to standard temperature of 15 ˚C. Stability and compatibility parameters of heavy fuel oils and MGOs are measured by identical test procedures. Two mixed oil samples (or only one sample for stability determination) are heated up to 95 ˚C in the heating bath. A drop of the heated oil is applied on chromatographic SPOT TEST paper and is ready for the analysis as soon as the spot dries out.
This test method applied by COMPA DENS CHECK follows ASTM D 4740-04 (2014).