Flash Point Check
---
Closed Cup Flash Point Test/ Pensky-Martens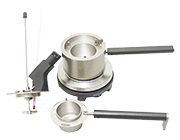 The flash point is an important characteristic for the assessment of the oil condition upon delivery as well as of the used oil in the engine operation. When the flash point is not in its standard ranges and has a considerably higher or lower value, this can indicate oil contamination and constitute a potential risk. In this context, the FLASH POINT CHECK allows to determine the flash point of oil directly on-site in order to identify hazardous liquids at the right time.
Features
Measuring range: ambient temperature – up to 200 °C
Measuring time: about 15 min.
Accuracy: +/- 2 % < 100 °C
+/- 6 °C > 100 °C
Benefits
Closed cup method relying on ISO 2719 DIN EN 22719 and ASTM D-93
Flash point read-out in °C
Approved by German Navy for field use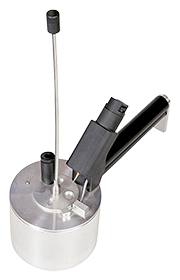 The test procedure is conducted in the closed cup test device which is filled with the oil sample and heated up to the temperature necessary for the gas inflammation to occur. The corresponding temperature on the thermometer indicates the flash point of the oil under inspection.