MT AN Check
---
Acid Number Titration Test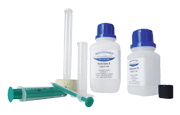 The quality of hydraulic oils can be assessed by measuring the acid number and determining the degree of contamination which can occur in the process of hydraulic systems operation. As the high acid value can cause adverse consequences for machine parts, the regular measurement of its level with the help of the MT AN CHECK allows to monitor this oil property easily on-site and to define the necessity of the oil change at the right time.
Features
Measuring range: 0 – 3 AN
Measuring time: about 3 min.
Accuracy: +/- 0.1 AN
Benefits
Easy and quick test procedure
Applicable for hydraulic, gear and turbine oils
Demonstrative test results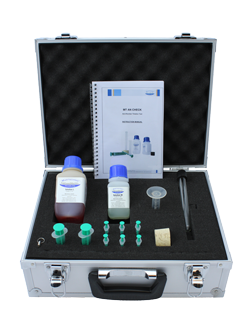 Two reagents (indicator and titration solvent) are mixed until the green color appears. The oil sample is added, and if the color of the mixed liquid changes to red, it means that the oil contains acid. Then the titration solvent is added drop by drop until the mixed liquid changes its color to green. The acid value is defined by the amount of the used titration solvent and can be obtained from the comparison chart.