MT Test Kit Verifier
---
Pressure Cell Testing Device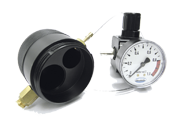 Observance of essential safety measures on board a vessel in accordance with the ISM Code helps to not only ensure safe operation of ships, but also make a valuable contribution to protecting of marine environment. Following the guidelines stated in Article 10.3, Part A of the ISM Code, namely necessity of "… regular testing of stand-by arrangements and equipment or technical systems that are not in continuous use", Martechnic® has elaborated the MT TEST KIT VERIFIER which enables a quick testing of operational capability and accurateness of measurements of its portable test devices based on the gas pressure measurements: WIO CHECK and TWIN CHECK 4.0.
Features
Two options available:

Option I: assembled and ready-to-use device with 0.5 m tube
Option II: assembled and ready-to-use device including 0.5 m tube and additionally supplied pressure regulating valve and adjusted manometer for direct readout of water-in-oil content

Accuracy:

+/-0.05% H₂O of TWIN CHECK 4.0/ WIO CHECK
+/-1BN of TWIN CHECK 4.0
Benefits
The device is equipped with 1 bar safety valve
Avoidance of too high pressure setting which exceeds the max. measuring value
Possibility of performance verification by the operator before measurement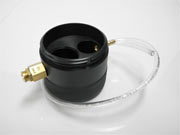 For condition verification of test devices (for example, TWIN CHECK 4.0), the "upper" part of the device (measuring unit with pressure sensor/ manometer) gets tightly screwed to the MT TEST KIT VERIFIER and then connected either with the calibration pump (if available on-site) or with pressure regulating valve and manometer (can be ordered as a complete version). After that the prepared unit is exposed to test pressure in order to check whether the pressure sensor displays the occurring internal pressure in a proper way. This can be done with the help of two reference pressures set on the adjusted manometer (for example, 0.3 and 0.6 vol. % H₂O). Regular testing with the MT TEST KIT VERIFIER helps to prove tightness, software and measurement accuracy of portable test devices in use.