Twin Check 4.0
---
TWIN CHECK: NEW IMPROVED DESIGN IN LINE WITH A 4.0 CONCEPT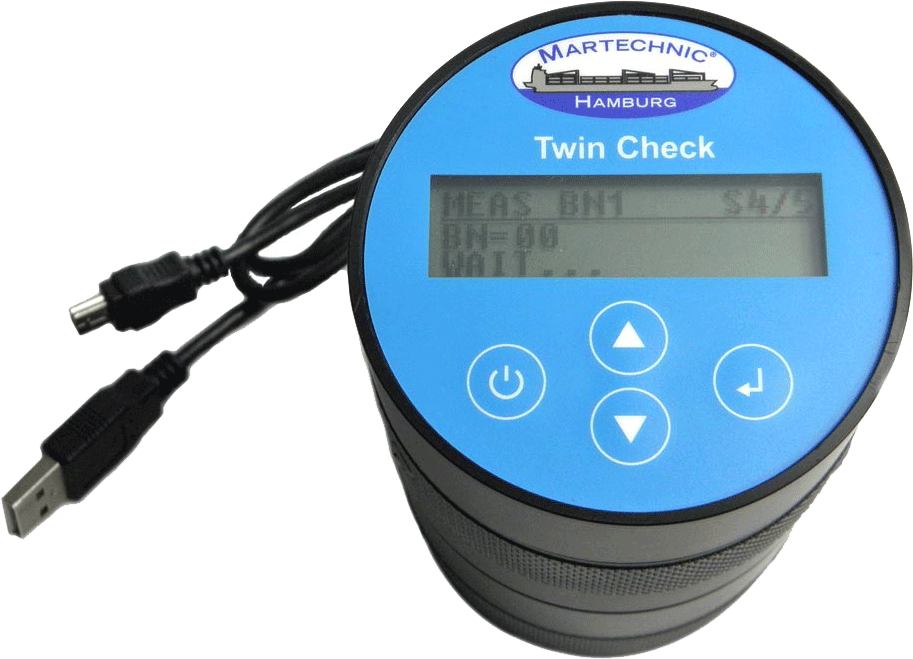 Electronic Water-in-Oil / BN Test

An improved and upgraded version of the test device TWIN CHECK has been developed and designed by Martechnic® to provide the benefits of digitalization in a customer-friendly way. Modularity in design of the TWIN CHECK 4.0 is a new configuration previously not available on the market. Every single constituent part (no matter plugged or screwed) can be replaced in case of malfunction or damage occurred. The visible advantages of the innovative technical solution are cost-effective on-site diagnosis and component replacement instead of buying a new test unit or paying high delivery cost for diagnostics and repair within the company premises.

Other important features of the TWIN CHECK 4.0 are optimization of water-in-oil/ BN measurements, easy-to-use navigation, automatic data recording and storing as well as USB to serial connection (terminal program) for data transfer and trend analysis of the condition of lubricating and hydraulic oil.
Features
Water-in-oil

Measuring range: 0 – 1.0 vol. % H2O
Measuring time: depends on the measured value (min. 2 - max. 20 min.)
Accuracy: +/- 3 %

Base number:

Measuring range: 0 – 100 BN
Measuring time: depends on the measured value (min. 2 - max. 20 min.)
Accuracy: +/- 1BN
Also available as single test unit: Water-in-Oil or BN
Benefits
Applicable for all mineral oil based fluids
Improved design with easy-to-follow navigation menu for high accuracy measurements
Internal memory chip with average data storage capacity of 2.5 years
Digital read-out of test results
USB to serial cable connectivity for data transfer and trend analysis
BN determination: 6 modes for up to 6 various oil grades of different engines
Maintenance and repair on board is possible
The identical water-in-oil/ BN measuring process starts as soon as two chambers of the TWIN CHECK's reaction vessel are filled with the oil sample and the reagent and the built-in pressure sensor has adopted the external (ambient) pressure as internal pressure with zero reference point. By shaking the device every two minutes for 15 seconds, the chemical reaction proceeds. The measurement will stop automatically as soon as the determined concentration of water in oil/ BN parameter is constant, and the end-result will be immediately shown on the digital display. Therefore, the measuring time directly depends on the measured value and can vary from 2 to maximum 20 minutes.

For BN determination a single standard calibration procedure for the oil grade in use is required.