Fuel and lube oil test cabinet
---
Basic Version and Customized Options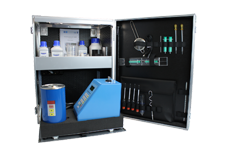 The FUEL AND LUBE OIL TEST CABINET is a portable laboratory for comprehensive, accurate and quick on-site trend analysis of fuel, lubricating and hydraulic oil condition. Regular monitoring of crucial oil parameters with on-site testing equipment provides engineers and users with the following advantages:

1. individual determination of appropriate testing intervals depending on an oil type and a specific parameter to check; 2. immediate availability of test results and their direct assessment; 3. possibility to detect any occurring changes in the oil condition at the right time.
Consequently, effective decisions on oil management can be made and adequate preventive engine system maintenance measures can be taken.
Basic Version of the Cabinet contains the following tests:
V 150 SALT CHECK
V 5108 TWIN CHECK
V 310 SPOT CHECK
V 232 VISCO DENS PLUS
V 200 VISCOSITY COMPARATOR
V 351 COMPATIBILITY CHECK
Customized versions can be offered in accordance with individual requirements, a specific field of application and in all possible combinations.
The examples of possible optional combinations:
Basic Version + Option I:

V 750 FLASH POINT CHECK (contains hazardous goods)
V 400 POUR POINT CHECK (contains hazardous goods)

Basic Version + Option II:

V 280 MT CAT FINES CHECK
V 1601 TOTAL IRON CHECK
Option II is a new feature Martechnic® offers its customers as a solution to the increased number of requests regarding the challenging problem of cat fines in new types of heavy fuel oil (VLSFO) and engine components wear related to total iron concentrations in cylinder drain oil.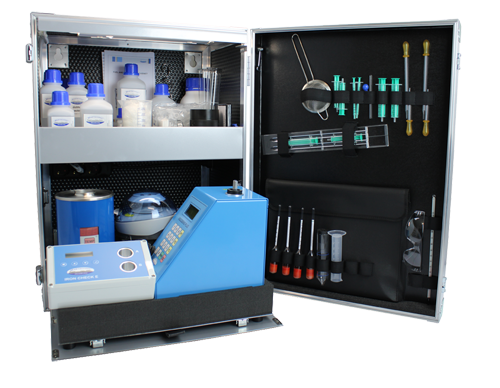 The Cabinet can also be supplied exclusively for testing lube and hydraulic oil (LUBE OIL TEST CABINET) or key parameters of bunker fuel (FUEL OIL TEST CABINET).
FEATURES
Basic Version: parameters to measure
Water-in-oil
Base Number
Viscosity Comparator
Heated Electronic Falling Ball Viscosity
Saltwater Contamination
Spot Test
Compatibility Check
| | |
| --- | --- |
| Option I: | Option II: |
| Flash Point Check | Pour Point Check |
| MT Cat Fines Check | Total Iron Check |
BENEFITS
Various tests for comprehensive oil condition assessment
Easy and quick test procedures
Accurate and efficient test results
Robust, compact and fastenable to a wall
Built-in lighting and test desk