News 2022
---
November 2022

Martechnic takes part in the WWF Christmas Campaign "DONATIONS INSTEAD OF GIFTS"
Corporate governance built on sustainable development principles has always been a top priority for Martechnic. Since 2015 the company has been ISO 14001 certified and consistently implements the requirements of the environmental management system into its daily business operations. In December 2021 Martechnic has joined the IMPA Green Business Bureau Program. The company's principal objective is to further prioritize, implement and certify Martechnic's commitment to sustainability through its own internal green initiatives.
As a small family-owned business Martechnic is always trying to support sustainable projects and actions of international non-profit organizations for environmental protection measures and the protection of biodiversity. Therefore, we also regularly support the WWF. This year we are participating in the WWF Christmas campaign "DONATIONS INSTEAD OF GIFTS" with 1,200 euros. Our contribution to support urgent nature and species conservation projects corresponds to our corporate concept of taking on sustainable responsibility and protecting the health of our planet.
September 2022
SMM 2022: Follow-Up Report
The long-anticipated return of the leading global maritime exhibition SMM was quite a success for international shipping industry. Not only was the trade fair a truly powerful platform to discuss the burning issues of climate change, energy transition and decarbonization strategy of the shipping sector, but also it provided the excellent opportunities to share the instruments for finding implementable solutions in the short-term perspective.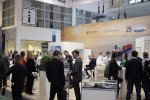 Martechnic's large exhibition booth of 88 m2 shared with two partner companies Tempelmann Feinwerktechnik GmbH and Sternberg GmbH was very busy during the exhibition. The company's team was absolutely delighted by the outcomes of the in-person business meetings and expansion of its business network.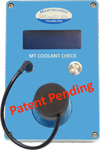 A special attention at the SMM is always devoted to inventions and innovations. Martechnic's Technical Project Manager Stefan Lagner, responsible for Research and Development, unveiled a completely new, patent pending testing technology for coolant condition monitoring "MT COOLANT CHECK". The innovative approach of the measuring method of the test device enables a state-of-art monitoring technique to date not available on the market.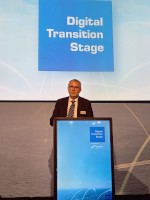 Informative presentation formats of Transition Stages provided a discussion podium also for Martechnic. The company's Customer Relations Manager Dr. Frank Bernier took the Digital Transition Stage to present Martechnic's oil quality management program and effective technical solutions to support application of potential alternative marine fuel during the testing period and beyond.
Additional highlights of Martechnic's participation in the SMM 2022 can be viewed in the following short exhibition film.
August 2022

Martechnic to Exhibit at SMM: 25 Years of Oil Quality Management
The leading international maritime trade fair SMM will be held on September 6 - 9 in Hamburg. After waiting for four years, the maritime industry will meet again in person to celebrate the 30th anniversary edition of the exhibition with the motto "Driving the Maritime Transition".
Martechnic is looking forward to attend the event that traditionally provides outstanding opportunities for networking, exchanging ideas and presenting innovations in the maritime sector.
The company will welcome the exhibition visitors and guests at the Hall A1, Stand 432. Martechnic will share insights of the company's oil quality management solutions that can effectively contribute to addressing environmental challenges and sustainability goals of the global shipping sector.
Besides, Martechnic will take the Digital Transition Stage on September 7 at 10:45 to present its wide range of proven technical solutions as well as innovative technology which can effectively support the international maritime industry during the so-called "decarbonization journey". The company will explain why the implementation of routine oil condition monitoring practices or in-service oil testing during the trial period of different options of zero-carbon fuels can help to study their effects on engine performance and their impact on lube and hydraulic oil.
May 2022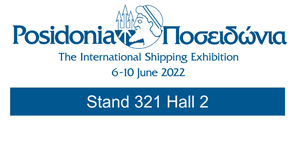 Martechnic Exhibits at Posidonia 2022
Martechnic is pleased to announce that the company's Managing Director Frank Herholdt will be attending the international shipping exhibition "Posidonia" from June 6-10 in Athens, Greece.
Following a pause forced by the COVID-19 pandemic, Martechnic will be joining the global maritime community to discuss the crucial issues of the highly-anticipated transition time for the international shipping industry with regard to environmental regulations and the process of decarbonization as well as current geopolitical challenges.
Martechnic will showcase its high-quality products for effective oil quality management directly on board a vessel. The company's innovative technical solutions for regular/ continuous on-site application can especially support the maritime stakeholders and ship operators during the introduction and testing period of alternative fuel solutions.
Sustainability in the shipping sector and digitalisation are the key concepts in Martechnic's product development strategy aiming to provide smooth running, optimal and reliable performance as well as cost-effective maintenance of on-board machinery, engine and equipment.
March 2022
We Celebrate Our 25th Anniversary

March 10, 2022 marks the 25th anniversary for Martechnic. Having been founded in 1997 as a small family-owned business in Germany, the company has become one of the world's leading experts in the area of oil quality management. Our focus for 25 years has always been designing, developing and manufacturing innovative oil test analysis equipment drawing on tradition and experience.
We have been providing our customers with high-quality products to monitor effectively the condition of fuel, lube and hydraulic oil directly on site in order to support smooth running, optimal and reliable performance of crucial machinery and equipment.
We are convinced that adoption of on-site oil analysis programs can contribute to cost-effective engine maintenance enabling to comply with international norms and standards of environmental protection saving precious resources and supporting sustainable development.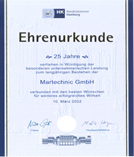 Martechnic's special entrepreneurial achievement for the 25 years has been recognized with a Certificate of Honor of the Chamber of Industry and Commerce of Hamburg, Germany.

Our company would like to say thank you to all our customers, business partners, suppliers and our dedicated employees for their trust, cooperation and support for the past 25 years. We look forward to continuing our close teamwork for many more years to come.
For its anniversary year, Martechnic has resolved to further support its environmental protection and sustainable development efforts and decided to give a donation of 1,000 Euros to the WWF Marine Conservation Programme. Martechnic regards it essential to keep the world's marine ecosystems and fisheries ecologically stable and productive and to protect marine biodiversity: www.wwf.de/meere-kuesten
January 2022
Martechnic is now a member of the Green Business Bureau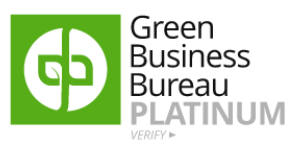 Since 2015 Martechnic has introduced ISO 14001 and applies an environmental management system in its daily operation in order to follow the latest international norms and standards of environmental protection.
Now we have also joined the IMPA Green Business Bureau Program
We consider sustainable development very seriously and have already implemented many eco-friendly initiatives into our company's internal policies in order to minimize our environmental impact as a business and to save precious resources. We successfully improved our energy efficiency and operational performance, adopted a waste management and recycling programs. We are committed to further work on our sustainability as well as social responsibility efforts.