Sample Taking
---
Sampling equipment for collection of representative oil samples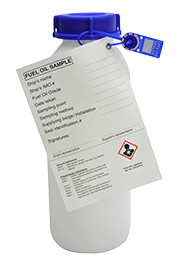 Appropriate sampling equipment is essential for obtaining accurate results of oil analysis. Martechnic® offers a variety of sampling bottles that are designed for fuel, lube and hydraulic oil as well as can be used for samples of water, alcohol or acid. They vary in sizes, form and material in accordance with the required substance for sampling.

For representative lube and hydraulic oil samples, small 120 ml sampling bottles have been developed. Their tamper evident seal of originality with perfect screw-thread design enables quick and effortless sampling. The bottles are automatically sealed through screwing the caps. The sampling bottles are convenient for different applications.
MARPOL fuel oil samples
In accordance with the MARPOL 73/78 Annex VI during the bunkering process a representative fuel oil sample has to be collected and a corresponding bunker delivery note has to be issued.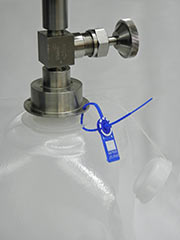 Complying with the guidelines of Annex 7 of MEPC.182 (59) on obtaining primary samples during the continuous bunkering, Martechnic® has designed a manual-valve drip sampler with the attached cubitainer (5 or 10 l) that are secured through sealing. The seal strip with a unique number is threaded through the fitted holes on drip sampler and on cubitainer. This system ensures prevention from tampering or contamination of the sample throughout the entire bunkering. Moreover, this method does not restrict operation of manual valve, but instead it enables adjustments in the flow rate of the primary sample during bunkering.

Accurate and safe handling and storage of the retained fuel samples is the essential requirement of MARPOL. As the amount of each retained sample has to be not less than 400 ml and in practice at least four samples are necessary, the sampling bottles of appropriate sizes of 500 or 1000 ml are provided by Martechnic®. Each bottle with the retained fuel oil sample comes with a proper label made of tear resistant and oil proof material. This combination is then secured with a tamper proof sealing with individual number directly on the seal instead of on a bottle's cap. This assembly of sampling bottle, label and individual seal makes it impossible to replace the original label or sealing number without breaking a seal. This important advantage helps to ensure the accuracy of the provided information about the retained fuel oil sample.