Humidity sensor plus
---
Continuous Determination of Water Content in Oil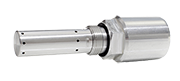 The HUMIDITY SENSOR PLUS is an upgraded version of the HUMIDITY SENSOR STANDARD which enables the real-time monitoring of three oil parameters: relative humidity, relative permittivity and conductivity of the oil. The sensor can be referred to as a semi-intelligent device of a new generation because of the provided possibility to measure, record, store and automatically assess the data which allow further calculating of the remaining useful lifetime of the oil.
Technical Data
Measuring range:
Relative Humidity: 0 – 100 %
Relative Permittivity (dielectric number): 1-7
Conductivity: 100 – 800000 pS/m
Temperature range: -20 °C to +85 °C
Voltage: 9 – 33 VDC
Max. fluid pressure: 50 bar
Protection class: IP 67
The screw-in HUMIDITY SENSOR PLUS helps to constantly estimate any occurring changes in the saturation degree of oil with water simultaneously measuring relative dielectric number and conductivity of oil at current temperature. The obtained values are transmitted to the special display unit DATALOGGER. Upon completion of the learning phase and creation of the required database, the measured values are also available at reference temperature of 40 °C. The sensor technology provides possibility to determine optimal periods of the engine system maintenance.