Humidity sensor standard
---
Continuous Water-in-Oil Monitoring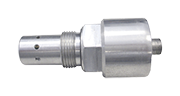 The HUMIDITY SENSOR STANDARD allows determining the presence of free or dissolved water in oil measuring relative humidity value on a continuous basis. The real-time monitoring of the saturation degree of oil with water enables direct detection of any occurring changes thereby ensuring effective operation of the engine system.
Technical Features
Measuring range: 0 – 100% (rel. humidity)
Temperature range: -20°C to +85°C
Voltage: 9 - 33 VDC
Max. fluid pressure: 10 bar
Protection class: IP 67
The HUMIDITY SENSOR STANDARD measures constantly the humidity value which is processed to the display unit DATALOGGER. The saturation level is calculated in % ranging from 0 % (no water detected) to 100 % (complete saturation/ existence of free water). The sensor is specifically relevant with regard to unsaturated ester oils due to inability to use portable test devices which measure the degree of water concentration with the help of reagents.