Viscosity & density sensor
---
Continuous Monitoring of Viscosity, Density and Temperature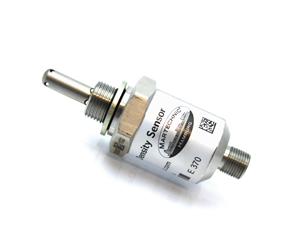 The VISCOSITY & DENSITY SENSOR is the latest development in oil sensor technology for inline condition monitoring of different application areas: lube and hydraulic oil, fuel quality control, analysis of process media and monitoring of mixing processes. The compact-sized and lightweight sensor enables accurate continuous measurement of three fluid properties: viscosity, mass density and temperature based on a low frequency resonant sensor element.
Technical Features
Measuring range:
Dynamic viscosity: 1 – 400 mm²/s
Mass density: 0.5 – 1.5 g/cm³
Temperature: -40°C to +125 °C
Accuracy:
Dynamic viscosity: +/- 1 mm²/s
Mass density: +/- 0.2 %
Temperature: +/- 0.1 °C
Voltage: 9 - 24 VDC
Max. fluid pressure: 50 bar
Protection class: IP 67
Interface: Modbus RTU/ 4- 20 mA
Fluid compatibility: mineral and synthetic oils (further approvals on request)
The measurement method of the sensor combines an innovative resonator evaluation technology with a robust and reliable quartz crystal tuning fork resonator. Due to the excellent sensing performance, extended viscosity range, high-level accuracy and high measurement rate, the sensor shows outstanding data quality even in unsteady environmental conditions (pressure, temperature, flow, vibration). The screw-mount design of the VISCOSITY & DENSITY SENSOR enables easy integration into existing environments providing standard industrial interfaces. 24/7 inline monitoring of viscosity and/or mass density allows immediate detection of any changes in the fluid condition as well as adequate preventive maintenance actions.